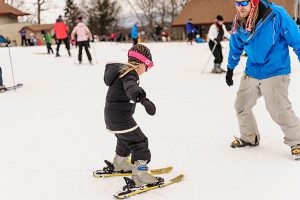 Snow Kamp provides a positive and fun first-time experience for kids ages 3-5. The program provides all day childcare, combined with an introduction to a winter wonderland of activities. Your child can play and, when ready, receive quality coaching from our team of trained instructors. It's a three-phase lesson plan all about safety, fun and instruction.
We offer a gentle learning curve designed to provide fun on and off the snow, and a NEW magic carpet right outside the door! This program is a great way to familiarize your child with the mountain, and it includes lunch and snacks.
Please take the time to read all of the following information regarding our registration process. Registration is from 8:30 to 9:15am in the Ski and Ride School the morning of participation. Reservations for the following day may be made in person, for Saturday and Sunday, from 3:30 to 4:15pm one day prior. Additionally, you may pre-register one day prior during the holiday period. All programs are on a first-come, first-serve basis and subject to availability. No online reservations. No phone reservations. Programs Include:
Slope Pass
Lessons
Equipment
Hot Lunch
Cost $125 Per Child
Lunch choices: Hamburger, cheeseburger, hotdog, chicken nuggets OR veggie nuggets. We also provide potato chips and apples. Snacks available during break time are graham crackers and water, lemonade or hot chocolate.