Snow Kamp provides a positive and fun first-time experience for kids ages 3-5. The program provides all-day childcare, combined with an introduction to a winter wonderland of activities. Your child can play and, when ready, receive quality coaching from our team of trained instructors.  
It's a three-phase lesson plan all about safety, fun and ski instruction.  
Check-in is 8:30 a.m. to 9:30 a.m. Pick up is 3:00 p.m
Prices
Weekday: $125
Weekend/Holiday: $140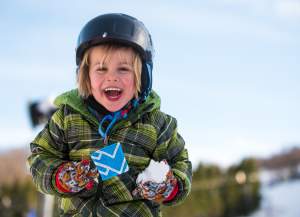 Lunch Choices
Hamburger
Cheeseburger
Hotdog
Chicken Nuggets or Veggie Nuggets
*Please note that children must be potty-trained to participate in this program.  
March Madness
During the month of March, we offer a 25% discount on all of lift passes, equipment and lessons.
Weekday: $94
Weekend: $105