New Early and Late Season Pricing!
Early Season: Opening Day through December 9th
Late Season: Sunday, March 13 at 5 p.m. through Saturday, March 26 at 5 p.m.
During these times, we will be open until 5 pm daily and will offer weekday pricing.
Early and Late Season Pricing overrides any season specials except for the Military Discount.
Snow Kamp provides a positive and fun first-time experience for kids ages 3-5. The program provides all-day childcare, combined with an introduction to a winter wonderland of activities. Your child can play and, when ready, receive quality coaching from our team of trained instructors. 
It's a three-phase lesson plan all about safety, fun and ski instruction. Snow Kamp is an indoor/outdoor program, the kids take plenty of breaks inside where they get to do fun crafts and learn basic ski drills to start them off in the right direction. The program is designed to keep their attention, keep them content, and keep them smiling! 
**Face masks are required upon arrival into the Snow Kamp program. Please bring a mask for your child.**
Check-in is 8:30 a.m. to 9:00 a.m. Pick up is 2:45 p.m
If you are looking to make an online reservation for Snow Kamp, please allow 48 hrs for processing.
Purchase Lessons Online
Reservations are required as space is limited. Please call 1-800-438-2093 ext 293 to make your reservation or purchase online ahead of time.
Prices
| Weekday | All Day |
| --- | --- |
| Ages 3-5 | $150.00 |
| Weekend/Holiday | All Day |
| --- | --- |
| Ages 3-5 | $175.00 |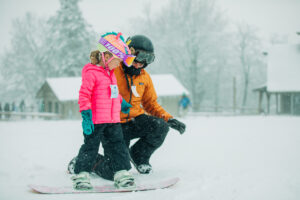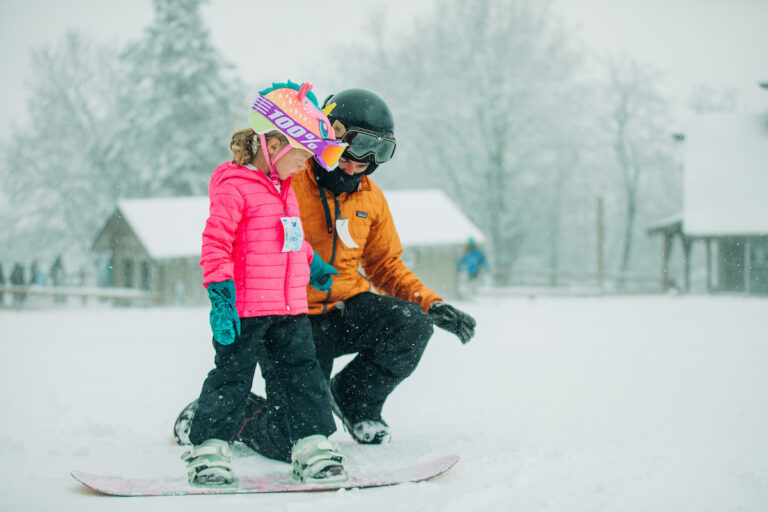 Lunch:
Cheese Pizza
Lunch includes applesauce, veggie cup, and plain Lays potato chips.
If your child has food allergies, we suggest bringing a packed lunch for your child.
*Please note that children must be potty-trained to participate in this program.