Beech Mountain Resort is currently installing two NEW chairlifts to be ready for the winter season.  Summer patrons can still get the same great experience with a quick shuttle ride to the summit!
Mountain Bike Lessons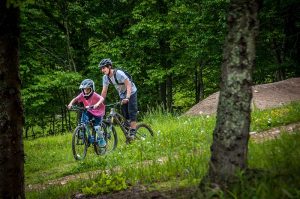 A talented team of instructors is ready to take you exactly where you want to go, whether you are brand new to the sport and want to ease into riding, or you are an experienced rider looking to perfect your skills.
Beginner Lesson Package
After an assessment of the rider's ability, this lesson will provide skills-based instruction to get you ready for the park.
Mountain bike tickets are sold out for Sunday, August 26th. We still have available tickets for Saturday, August 25th.
*Includes Lesson, Shuttle ticket, and Equipment*
Morning 1/2 Day: $150
Lesson Time: 10:00 a.m. to 1:30 p.m.
*Please arrive one hour prior to your  scheduled lesson time.
Afternoon 1/2 Day: $150
Lesson Time: 2:30 p.m. to 6:00 p.m.
*Please arrive one hour prior to your scheduled lesson time.
Reservations are encouraged. Please call 800.438.2093 x 215 for booking information, or book online HERE!
Private Lessons or Guides Rides
Private lessons can cater to the beginner or intermediate rider.
One Hour: $45
Each Additional Person: $20
Add an additional person to your group for just $20.