Beech Mountain Resort's Disc Golf Course Open June 2017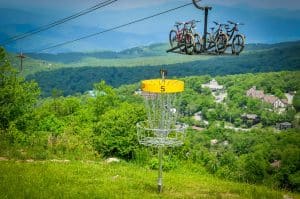 Enthusiasts and players of all skill levels can enjoy spectacular views, unique tee locations, and targets teetering on small ridges, booming drives, delicate touch shots, with a picture perfect signature hole from this professional level 18-hole course. The course plays mostly downhill and features Innova Discatcher Pro Targets, framed Disconcepts Launch pads, and custom tee signs.
The course is positioned on 100 acres of scenic terrain at Beech Mountain Resort. Experience breathtaking views of the Blue Ridge Mountains, while you play North Carolina's only chairlift assisted course.
Lift ticket sales and a variety of discs and disc golf accessories are available for purchase in Ski Beech Sports, located in the resort village. Stay tuned for details about events hosted by the resort throughout the summer.