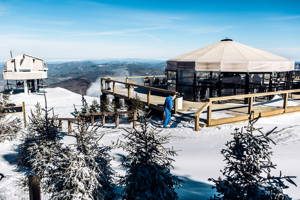 At the top of Beech Mountain Resort is a one-of-a-kind amenity where guests are invited to take a break from skiing and snowboarding. Constructed in 2013, Beech Mountain Resort added a facility named 5506′, paying tribute to the elevation that gives us the title of the highest ski area in eastern America. 5506′ is a structure like no other that consists of: a 2800 ft.² deck with Adirondack chairs and picnic tables; a glass roundhouse complete with bar, barstools, and tables; a snack bar; as well as, heated restrooms.
After riding the chairlift up to the summit, skiers and snowboarders are welcome to kick off their skis and snowboards and kick back at 5506′. The breathtaking views are unparalleled with a beautiful panorama of the Blue Ridge Mountains as they span North Carolina, Tennessee, and Virginia. The options for food and drinks are plentiful and mouth-watering. You are guaranteed to call this spot a favorite at Beech Mountain!
The snack bar at 5506′ offers chips, candy bars, other snacks, and a  variety of non-alcoholic beverages. Inside of the cozy, glass roundhouse, a full-service bar provides a wide selection of well and top-shelf liquors, mixed drinks, wine, and, of course, a selection of our very own Beech Mountain Brewing Company beers are on tap. With such an array of choices, it is no wonder why 5506′ has become the go-to spot for skiers and snowboarders to take a break.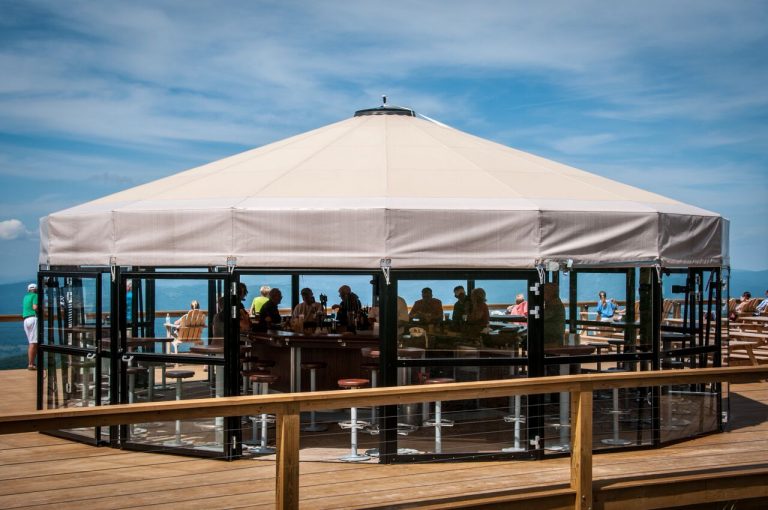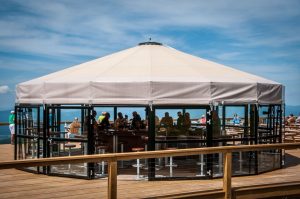 When the weather is just right, the roof on the glass roundhouse retracts to allow guests an experience like no other. When retracted, the beautiful Carolina blue skies seem touchable and the warm rays of the sun envelop the soul. A clear-sky visit to 5506′ is hard to top and will leave you feeling relaxed and rejuvenated!
*5506′ is only accessible to skiers and snowboarders during the winter season. Guests visiting 5506′ must have a valid lift ticket, ride the chairlift up, and then guests are required to ski/snowboard down the mountain (there is no ride available for going down the chairlift). Please drink responsibly.
In the summer, 5506′ is equally popular with mountain bikers, hikers, disc golfers, and visitors to eastern America's highest town. All of the same amenities are offered and the option to take a scenic lift ride up and down the mountain allows for everyone to enjoy the highly popular spot. We are proud to host top local and regional musicians on the patio at 5506′ for special summer events. In addition, Beech Mountain Resort offers Morning Yoga during select days in the summer, check back for the summer schedule. Be sure to snap a few panoramic photos of the beautiful views of the Blue Ridge Mountains to document your journey to Eastern America's highest resort.