Join the Beech Mountain Bike Park Team! Ages 7-15 welcome!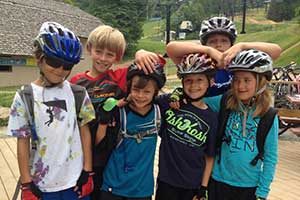 With enthusiastic coaches and a variety of expert guest coaches, it's not hard to be excited about Beech Bike Park's youth development team.  This program allows riders to sharpen their skills and includes a season pass, jersey, and ten weeks of instruction.  The team will meet every Saturday starting June 15 through August 3, offering casual riding sessions from 9am-12pm.  The cost to join the team is $275.00.  All team members are required to have a full-face helmet, proper safety gear, and a full-suspension bike.  All bikes must pass inspection.  This program is not for the novice rider.
On Saturday, June 15th all registered participants will meet at the bike shop at 9 a.m. Upon conclusion of the day, lunch will be provided at the Taproom and Grill.
Bike Park Team Pass Includes: