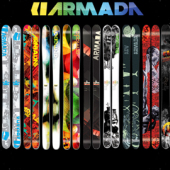 Free Armada Demo, Saturday, Feb 23rd
February 23-24 is 80s weekend at Beech Mountain Resort! On Saturday, February 23, a representative of ARMADA will be at the Resort, offering a selection of skis for demonstration. Included in this demo: AR7, T-Hall, ARV, Halo, Alpha One, ARW, Cantika, JJ, TST ,and others! See something you like? Join us on Saturday to give them a try, it's FREE! All weekend, enjoy 30% off ARMADA skis and a free hat or t-shirt with your purchase.
An 80s attire contest will also be held on Saturday at 8:30pm. Sponsored by SKINC.com, you have the chance to win $500 and an electric guitar! Live music will be featured in the Beech Tree from the band 80z Enuff from Greensboro, N.C. see them at 7pm on Saturday!