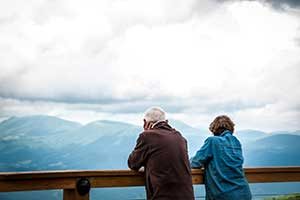 Beech Mountain Resort's scenic lift ride provides our patrons with panoramic views of the surrounding mountains.  Climb 830 feet to one of the highest peaks in the area.  At the summit, take a group photo, enjoy hiking, relax, or grab a drink at 5506′.
When visiting the North Carolina High Country, this is an experience you don't want to miss.
Hours of operation:
Thursday 12 p.m. to 6 p.m.
Friday 10 a.m. to 6 p.m.
Saturday  10 a.m. to 6 p.m.
Sunday 10 a.m. to 6 p.m.
Pricing:
Single Ride $10
Day $35
Junior Day (12 and under) $28
Five and under ride free with a paid adult. 
Beech Mountain Resort opens for the summer season on Saturday, May 27th, 2017.
---
Summer Lift Ride Regulations
Scenic lift rides, bicycle access lift rides, and disc golf access lift rides are offered on designated weekends at Beech Mountain Resort.  The Quad Chair Lift is typically used to access the top of our mountain with breathtaking views stretching for miles.  The following list of regulations is associated with the above listed lift ride tickets. Additional regulations not listed may be added.
No one is guaranteed access to a lift ride, and lift access can be denied
Scenic, bicycle, and disc golf lift rides are not available during winter operations
Times of  lift operation may change and are subject to weather conditions
Thunder and lightning and wind  may cause the lift to be closed
Riders must be in suitable physical condition to be able to load and unload the lift
Dress should be appropriate for changes in temperature and weather
Proper footwear for walking on the side of a mountain should be worn
Children must be at least 36" tall Please be advised this is strictly enforced.  You must be 36″ tall regardless of  if accompanied by an adult. 
No child carriers, and  no crutches, walkers or wheel chairs are allowed
NO INFANTS
Parents are responsible for the safety of their minor children
Back packs must be removed and held on the chair or the passenger's lap
No one that appears to be under the influence of drugs or alcohol will have access
No alcohol, or open containers are permitted on the lift
No dogs
Riders must be able to properly fit into a rescue harness
There are no restraint straps or belts on the chairs
Prior to using any lift, you must have the knowledge and ability to load, ride and unload safely
BEECH MOUNTAIN RESORT RESERVES THE RIGHT TO REFUSE SERVICE TO ANYONE THAT DOES NOT FOLLOW, OR WHO DEVIATES FROM THE REGULATIONS ASSOCIATED WITH LIFT USAGE. PLEASE BE ADVISED OF ALL REGULATIONS PRIOR TO PURCHASING A TICKET.
WARNING!
 You are entering a high mountain environment. There are inherent risks associated with mountain biking, hiking, or other recreational activities in this type of environment. Trail conditions vary constantly because of weather, biker, hiker, and other use. Variations in terrain, types of ground surface, forest growth, rocks and debris may be encountered and may be hidden by vegetation. Snow making equipment and other natural or man-made obstacles and hazards may exist throughout the area. You enter this area at your own risk, and you must assume any and all risks of personal injury, or death, and damage to equipment.