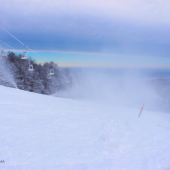 Beech Mountain Resort Snowmaking In A Nutshell
Beech Mountain Resort has a total of 24 SMI Super PoleCat snow guns. These automated guns are located on every slope, plus we have five more on carriages that can be placed strategically as needed.
Meanwhile, we also use 90 Ratnik air/water snow guns and 45 York air/water snow guns mounted on poles, giving us a total of 158 ways to blanket the mountain in snow! Our snowmaking team has years of experience. In order to make snow they look for temperatures in the low 30s combined with low humidity.
'SMI is an industry leader in snowmaking machines,' says Gil Adams, director of skier services at Beech Mountain Resort. 'The Super PoleCats excel in all snowmaking temperature conditions. Our system can pump approximately 3,500 gallons of water per minute to convert to snow.'