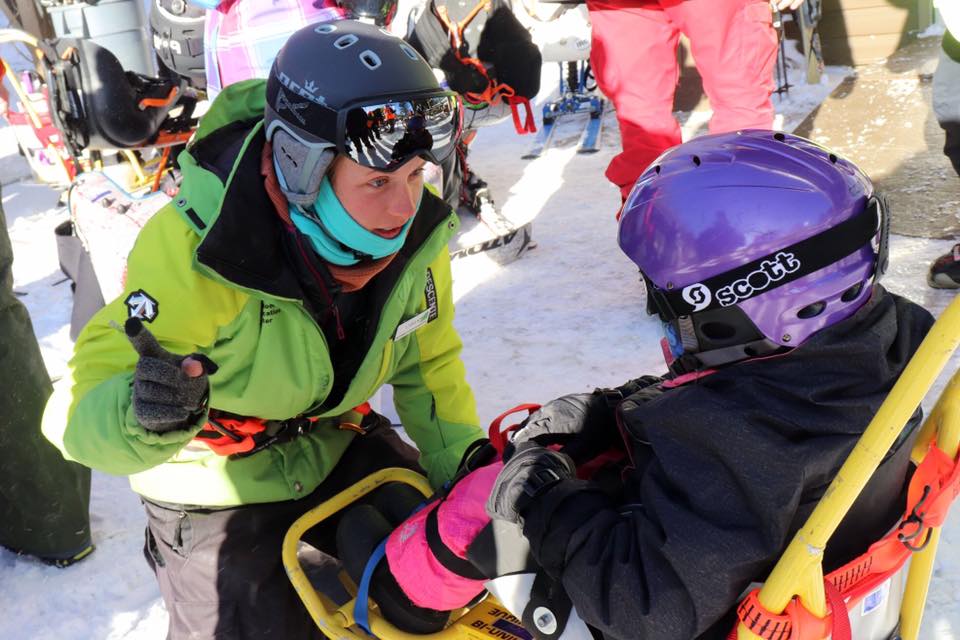 Beech Mountain Resort Adaptive Ski & Ride Lessons
A lesson tailored to meet the individual needs of people who require specialized equipment or teaching techniques. Adaptive skiers may have cognitive, developmental, or physical disabilities. A disability is a condition that may be physical and/or mental that affects a person's cognition, movement and mobility, sensation, and/or activities.
The Beech Mountain Resort's Ski & Ride School offers adaptive ski and ride lessons on a daily basis depending on the availability of adaptive instructors and specialized adaptive equipment specific to the participant's needs
Types of Adaptive Lessons Include:
Sit-Ski
Stand-Up Lessons
2-Track (skiing with 2 skis with assistance from the instructor)

3-Track (skiing with 1 ski and utilizing 2 stand-up outriggers)

4-Track (skiing with 2 skis and utilizing 2 stand-up outriggers)

Visually Impaired

Slider (a piece of adaptive equipment that looks similar to a walker on skis)

Snowboard
Price Includes:
A slope pass

Stand-up outriggers and sit-ski equipment (bi-skis and mono-skis) 

Instruction
Morning Half-Day Adaptive Lesson: $95.00 – 10:00am – 12:30pm
Afternoon Half-Day Adaptive Lesson: $95.00 – 1:30pm – 4:00pm
All-Day Adaptive Lesson: $140.00 – 10:00am – 4:00pm
About PSIA-AASI
The Professional Ski Instructors of America and the American Association of Snowboard Instructors (PSIA-AASI) is a non-profit educational association of snowsports professionals dedicated to creating life-changing experiences for others through snowsports instruction. Members of PSIA-AASI are creating the future of skiing and snowboarding and the association is devoted to making that job easier by providing the support that ensures their success. Education is at the core of PSIA-AASI and the adaptive lesson format for all of the specific types of lessons and equipment is covered in the Adaptive Alpine and Adaptive Snowboard Technical Manuals. These PSIA/AASI manuals are available to the Beech Adaptive Ski & Ride instructors and volunteers. These standards are followed in all adaptive trainings and adaptive lessons.
The Adaptive Instructors and Volunteers
The Beech Adaptive Ski & Ride instructors are members of the PSIA-AASI and are either currently certified as PSIA-AASI Adaptive Instructors or are working toward certification. The instructors attend PSIA-AASI Continuing Education Workshops and conduct trainings for volunteers both on and off the snow at the Beech Mountain Resort. Most adaptive lessons consist of an adaptive instructor and one or two adaptive lesson volunteers (local college students or area adult volunteers) who are passionate about helping to assist the instructor and the participant to ensure the safest, most educational, and fun lesson for the participant.
Contact Information
An adaptive lesson must be requested at least two weeks in advance by emailing the Ski & Ride School at [email protected]m after which a Beech Adaptive Ski & Ride staff member will contact you about the availability and specifics of the lesson. Please click HERE to download the Adaptive Participant Form.