Explore the intricate Beech Mountain Resort mountain biking trails and find out why it is often utilized for National Championship races.
The terrain offers something for every rider, from the beginner to experienced. Beginner trails offer a smooth introduction for the novice rider, with friendly and manageable features. Our advanced terrain is steep and technical, with lots of rock, tricky corners and technical wood descents.
Our lift accommodates up to four riders per chair and offers the opportunity to easily self-load and un-load bikes, minimizing rough handling and unnecessary wear. Plus, enjoy beautiful panoramic views of the mountain as you ride up to the highest bike park in the east at 5,506 feet elevation.
Hours of operation: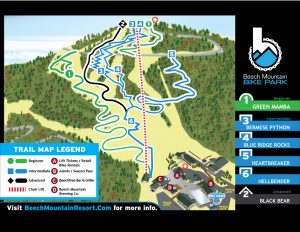 Thursday 12 p.m. to 6 p.m.
Friday 10 a.m. to 6 p.m.
Saturday  10 a.m. to 6 p.m.
Sunday 10 a.m. to 6 p.m.
Pricing:
Single Ride $10
Day $35                                                                                                                                                                                        DOWNLOAD HERE
Junior Day (12 and under) $28
Adult Season Pass $225
Jr. Season Pass (12 and under) $199
Five and under ride free with a paid adult. 
Mountain Bike Lessons
A talented team of instructors is ready to take you exactly where you want to go, whether you are brand new to the sport and want to ease into riding, or you are an experienced rider looking to perfect your skills.
Beginner Lesson Package
After an assessment of the rider's ability, this lesson will provide skills-based instruction to get you ready for the park.
*Includes Lesson, Lift ticket, and Equipment*
Morning 1/2 Day $150
Afternoon 1/2 Day $150
Instruction Times: 10 a.m. and 2 p.m.
Reservations are encouraged. Please call 800.438.2093 x 215 for booking information, or book online here.
For more information and help planning a lesson specifically catered to your ability level, please email caleb at [email protected]
Private Lessons
One Hour $45
Mountain Bike Rentals
Magic Cycles offers several premium bikes for rent!
Half Day 10am to 1:30pm and 2:30pm to 6pm
Full Day 10am to 6pm
Please arrive one hour early, in order to ensure adequate time.
140mm travel Giant Trance – $60/half day  or   $80/day
Giant Reign with 160mm travel – $80/ half day or $100/day
Giant Glory with 200mm travel – $100/ half day or $120/day
Santa Cruz Bronson's  $100/ half day or $120/day
Santa Cruz Bronson's  $100/half day  and $120/ day
All bikes will be available for half day rentals. Rental charges include a full-face helmet and body armor with each bike.
Each bike will be reviewed, updated, and approved before renting in a full-service repair shop stocked with a full range of parts and accessories.
Have your own bike, but no gear? Gear rental is also available.
Full-face helmet and body armor – Ranges from $40 to $60 depending on style
Full-face helmet – $20 to $40 depending on style
Body armor – $20
Magic Cycles has over 20 years of experience.
Reservations are strongly recommended. Please call Magic Cycles to reserve your bike!  (828) 265-2211
**A twenty dollar non-refundable/ non-transferable deposit is required**
Summer Mountain Bike Hours for 2017
May 27th – September 3rd

Hours of operation:
Thursday 12 p.m. to 6 p.m.
Friday 10 a.m. to 6 p.m.
Saturday  10 a.m. to 6 p.m.
Sunday 10 a.m. to 6 p.m.
Pricing:
Single Ride $10
Day $35
Junior Day (12 and under) $28
Five and under ride free with a paid adult. 
Beech Mountain Resort opens for the summer season on Saturday, May 28th.
Mountain Bike Responsibility Code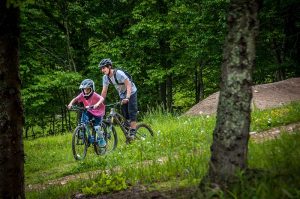 Mountain biking involves elements of risk that common sense and personal awareness can help reduce. Please adhere to the responsibility code.
Ride in control and within your ability level. You must be able to avoid other people or objects around you.
Do not use the lifts and trails if your ability is impaired by the use of drugs or alcohol.
All riders must wear a helmet. Full face helmets, body armor, gloves, knee, shin, and elbow pads are highly recommended.
Make sure that your bike and components work properly.
You must have sufficient physical dexterity, ability and knowledge to safely load, ride and unload lifts.
Stay on designated trails. Obey all signs and warnings. Keep off closed areas.
Do not stop where you obstruct a trail or are not visible from above.
Be aware of changing conditions on trails and features.
Familiarize yourself with the trails and choose trails within your ability. Choose the proper line in a technical area for your ability. When in doubt, walk your bike.
Stop and prepare to yield when crossing a road used by vehicles, hikers or other cyclists.
If you are involved in or witness to a collision or accident, you should remain at the scene and identify yourself to the bike patrol.
Respect the environment and wildlife. Do not litter.
This is a partial list. Be safety conscious. It is your responsibility.
In Case of Emergency
Retrace your steps, or proceed downhill to find a landmark or one of the small signs along the trails with a letter and a number to indicate your location. This number will help the bike patrol or EMS to locate where you are. Call 828-387-2362 (the bike patrol) to report the incident.
Emerald Outback Trails
During the week, when Beech Mountain Resort is closed, enjoy mountain biking, hiking and trail running year-round on Beech Mountain's Emerald Outback. For more information, please visit their website.