January 2015 marks the seventh annual Learn to Ski and Snowboard Month. Right after New Year's, during the entire month, ski and snowboard areas throughout the country offer their best deals for newcomers wanting to try one or both of these winter sports in the most affordable way.
"Cost and convenience often are top of mind for people considering taking up skiing or snowboarding," said Mary Jo Tarallo, executive director for the snow sports industry's national initiative. "Like anything else, making the sports affordable and accessible requires a little research and smart shopping."
The learntoskiandsnowboard.org web site not only provides access to resorts and their learning offers, it also provides a list of snow sports retail shops, tips for newcomers ranging from "How to Save Money", "How to Dress" (starting with clothes from one's closet), "Dealing with Children" and "How to Pack for a Ski/Snowboard Trip".
"Having one web site that has so much basic information as well as links to other sites makes it easier for newcomers to shop around, and make more educated decisions on affordability and convenience," added Tarallo. The site also includes links on renting clothing in addition to equipment, on-line swap platforms, clothing and equipment suppliers and much more.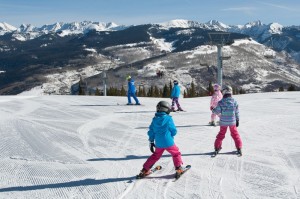 Several states including Vermont, New Hampshire, New York, Michigan, Pennsylvania, Maine, Minnesota, New Mexico, and Utah have a variety of statewide and discounted "learn to" programs to make it easy for beginners to get started in skiing or snowboarding. Programs vary and many have a standard price. One "standardized" program run by Ski the Northwest Rockies involved venues in Washington and Idaho.
Ski Vermont and Ski New Hampshire are running a $29 lift, lesson, and rental package at participating resorts. The Vermont program has been successful for a number of years and, this year, neighbor New Hampshire has jumped in with a similar effort.
Ski Areas of New York is celebrating "Discover New York" on January 8 with $12 lift vouchers and learning programs that start at $25. Ski PA has a First-Timer learning program for $49 at its member resorts throughout the Keystone state. New York has 40 venues and Pennsylvania has 19.
Ski Maine has harnessed its resorts to offer special "Bring a Friend learning programs at Sugarloaf and Sunday River and a host of other beginner packages at its other member resorts.
In North Carolina, Beech Mountain's Skiing 101 will be offered again this January, the third year for the program that provides one night's lodging, equipment rental, helmet rental, full-day lift ticket, and a beginner ski or snowboard lesson at Beech Mountain Resort, Monday through Friday for participates age 8 and older, for $101 per person based on double occupancy. Registrants simply contact any of the participating lodging properties listed on Beech's Skiing 101 page.
"Skiing or snowboarding can be intimidating if you haven't tried them before, so we offer a learning experience that's easy, safe and fun," says Talia Freeman, marketing director for Beech Mountain Resort. "We take you though each step. Everything is covered from equipment rental to lift tickets to the proper way to carry skis. We make all the rounds and ensure you arrive at the lesson on time and prepared."
Newcomers also can
"Discover Michigan"
by taking advantage of that state's $20 cross country learning offer and its $35 learning offer for Alpine skiing and snowboarding at 27 venues throughout the state..
There's another "Discover" program in Minnesota. A group of retail shops in that state have teamed up with the Minnesota Ski Areas Association on a program that combines learning how to ski or snowboard with learning about the clothing and equipment as well. The resorts also are members of the Midwest Ski Areas Association. 
Ski New Mexico teams with local ABC television affiliate KOAT-7 on a special children's "learn to" program priced at $40. Member resort Sipapu has a "first three lessons free" program.
Residents of Utah can sample "the Greatest Snow on Earth" via theSki Utah $45 lift, lesson, and rental package. Newcomers must show proof of being a Utah resident.
Ski the Northwest Rockies' E Z Ski/Ride 1 2 3 includes four member venues in Washington and Idaho. Special deals are available for lift, lesson, and rental beginner learning packages and even better deals are offered in January.
In California, many of North Lake Tahoe's 12 member downhill ski resorts are offering steep discounts on lessons, lift tickets, rentals and more, making it easier than ever to try a new sport. Find these cool deals and others all season long at GoTahoeNorth.com/cool-deals.
Many individual resorts in Colorado, and in other states, have a variety of beginner learning programs. All are available at learntoskiandsnowboard.org.

Newcomers who take lessons during January have a couple of ways to make skiing and snowboarding more affordable. Online retailer skis.com/snowboards.com is giving a $50 gift voucher to anyone who takes a beginner lesson and sends in the receipt. The skis.comweb site has information starting January 1.
A free subscription through learntoskiandsnowboard.org to the Mountain Sports Club paves the way for discounts and savings. Numerous "Passport" programs for kids offers parents substantial savings on lessons and lift tickets for elementary level school children. Discounted lift ticket/learning programs are available during January and beyond from specialized web sitesLiftopia.com and GetSkiTickets.com. Details and links to all of these opportunities are available through learntoskiandsnowboard.org. Snowlink.com is another good source for information.
Beginners who bring other beginners for lessons can win substantial prizes for doing so including skis from Head and Ramp, a snowboard from Ride or a $500 gift voucher from Krimson Klover. The key is to take the Bring a Friend Challenge.
Newcomers who enter the First Day Faces campaign (#firstdayfaces) are eligible to win a four-day trip to Utah including airfare from a major city. "We think that's an affordable offer," said Raelene Davis, Marketing VP for Ski Utah and sponsor for the trip.
http://www.firsttracksonline.com/2014/12/31/deals-abound-in-january-to-learn-to-ski-and-snowboard/