Drew Holcomb & the Neighbors with The SteelDrivers
June 13 @ 7:00 pm

-

11:00 pm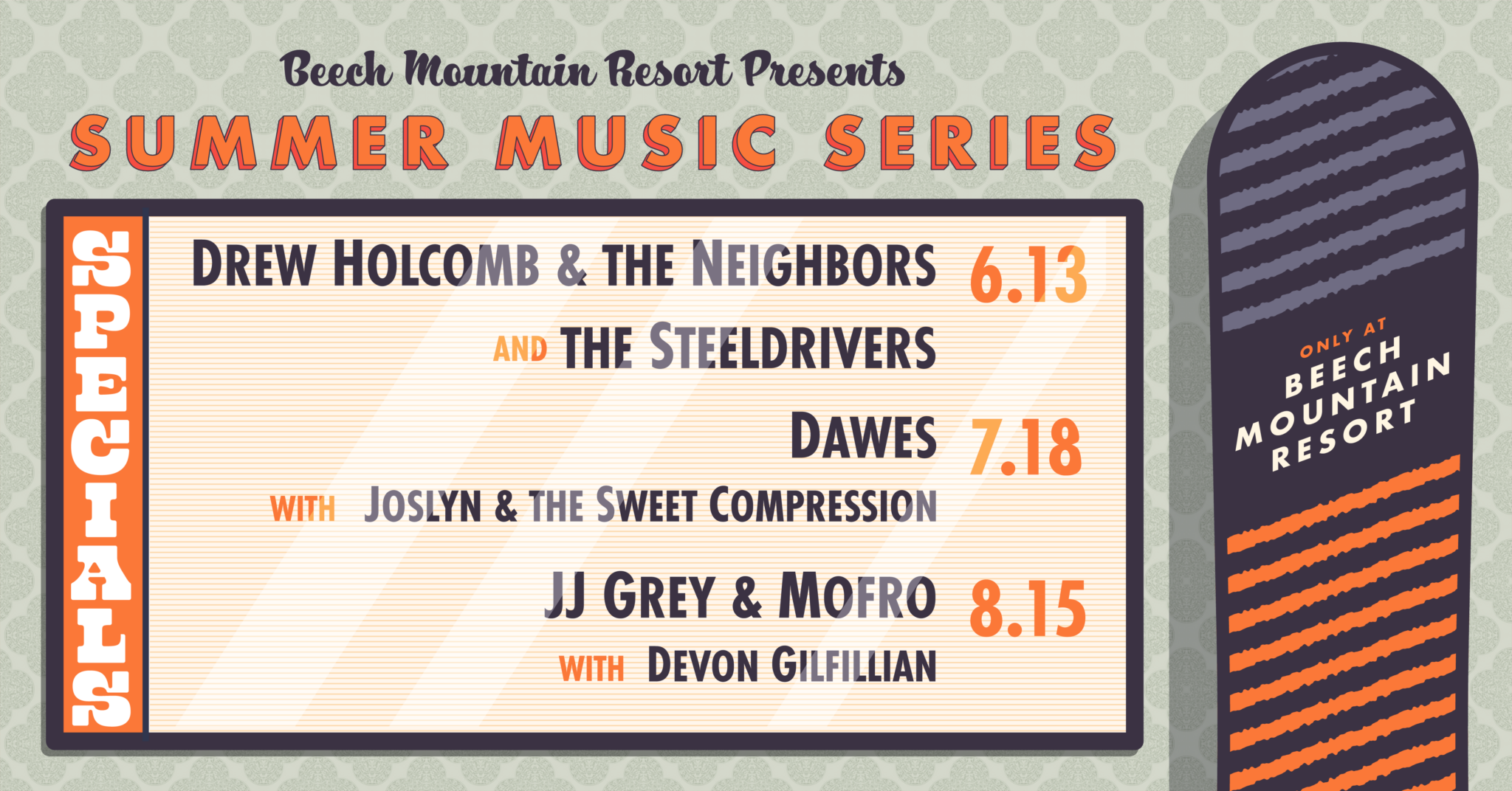 Gates Open: 6:00 p.m. Show will begin at 7:00 p.m.
Tickets are $35 in advance and $45 day of show. 5 and Under FREE!
NO PETS PERMITTED
Guests are welcome to bring lawn chairs, however the space directly in front of the stage will be reserved for standing (dancing) room only. The stage will be located at the base of the slopes.
There will be a FREE after party in the Taproom & Grill. Drinks and Food will be available for purchase.
This years beneficiary is Mountain True. A special thanks to our sponsors Root Down Hair Studio and Appalachian Mountain Brewery.
Drew Holcomb and the Neighbors is an American act hailing from Nashville, Tennessee.
Drawing influence from Tom Petty and Bob Dylan, Drew Holcomb has found his place in today's landscape of singer/songwriter Americana. He and his band have developed their sound through extensive touring, performing alongside Amos Lee, Willie Nelson, John Hiatt, Needtobreathe, Ben Rector, Don Henley, and more.
The band has sold over 150,000 albums to date and played over 2,000 concert dates in 7 countries. Their songs have received over 60 TV placements, appearing on How I Met Your Mother, Criminal Minds, Parenthood, Nashville, HOUSE, Justified and more.
Their latest album, Dragons, is available now.
Richard Bailey (banjo), Tammy Rogers (fiddle), Mike Fleming (bass) and Brent Truitt (mandolin) have been musical colleagues and friends for more than three decades, which is to say nearly all of their adult lives. They were bringing their instrumental, vocal and songwriting skills to various bands, ad hoc gigs, picking parties and recording sessions long before The Steeldrivers first came together. That happened in 2005 when Nashville veteran Mike Henderson and Stapleton, a young gun on Music Row, had co-written a batch of songs that felt right for bluegrass instrumentation. Some casual get-togethers with Bailey, Fleming and Rogers led to a run of shows, a deal with historic Rounder Records and critical acclaim.
The SteelDrivers
Bad For You, the fifth album from Nashville's hard-edged bluegrass band The Steeldrivers, arrives after a period of triumph and adaptation. The band's 2015 release, The Muscle Shoals Recordings, won the Grammy Award for Best Bluegrass Album. In bluegrass and acoustic music circles, respect for this Nashville quintet is so strong that the win seemed somehow inevitable, like a box being checked off. For the band though, as well as its passionate audience of Steelheads, it was a much bigger deal. The Grammy validated the vision and collective striving of a string band with a rock and soul heart. Industry recognition and better bookings followed. Then just when the follow-up album was coming together, vocalist and guitar player Gary Nichols decided he needed to go his own way.
While Steeldrivers 3.0 rehearsed and started playing shows, Rogers, the band's dynamic fiddle player and harmony vocalist, leaned hard into developing new material. "Having been known as a songwriting band, I felt like it was still what the band needed to do," she says. Indeed, original, band-written songs were as much a part of the Steeldrivers origin story as its infectious grooves and its R&B leanings. Those first rehearsals and shows with Stapleton/Henderson songs included "Drinkin' Dark Whiskey," "If It Hadn't Been For Love" (which was covered by pop star Adele), "Sticks That Made Thunder" and other certified band standards.
Rogers surveyed material she had going back a few years and called some of the co-writers, such as Jerry Salley and Liz Hengber, who'd contributed songs to the original Steeldrivers eponymous debut, to Reckless in 2010, to Hammer Down in 2012 and to the Muscle Shoals Album of 2015. The process of sifting through 50 or 60 prospect songs was of course influenced by Kelvin's taste, sound and phrasing. "There are songs here that aren't even bluegrass to me," he says. "They're rock and roll." He cites the title track "Bad For You" as a prime example. "Banjo is the only bluegrass thing about it," he says.
That album-opening title track churns slowly like a paddle-wheel steamer negotiating a shallow muddy river. Kelvin's voice rises and howls with a poignant desperation. Tammy's fiddle carves lonesome answering lines, and the 15-year Steeldriver tradition of dark, jagged-edged goth-grass feels intact and heading for new places. Then in "The Bartender (Load The Gun)" the main character wrestles with his role. Is he a friend-in-need or an accessory to a crime? It's a question perfectly suited to the Steeldrivers' unsparing blues. Up next, "12 O'Clock Blues" takes us inside the haunted anxiety of insomnia. Written by Rogers with longtime musical companion Kieran Kane and his duo partner Rayna Gellert, it became Kelvin's favorite for its groove shockwaves and its depiction of a shared human experience.
Related Events