Recess Presents Easy Does It!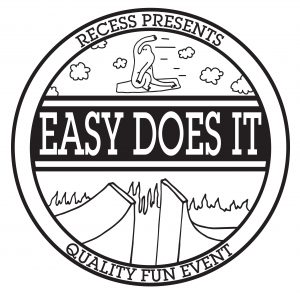 EASY DOES IT!!!  PRESENTED BY RECESS –
Saturday March 4th
at Beech Mountain – Who is ready for a day of ripping around the park with everyone giving high fives and bringing it back to the basics?!?!  This event is going to consist of mostly features made out of snow only! Style and fun is the name of the game!  Lots of grabs, tweaks, style, creativity and good times!  All levels of boarding are welcome and encouraged!  There will not be any categories or 1st, 2nd and 3rd place… Contest pressure is out the window on this one.
We will have some killer prizes to hand out and stand out awards for various things… best grab, most style, and  some on the fly games so don't miss it!  This is gong to be a FREE event and just a $20 rope tow pass to get you on hill!!!!  Cant beat that!  The focus is to just come snowboarding and enjoy having a killer time on hill and take a RECESS from everything else.  See you there!!